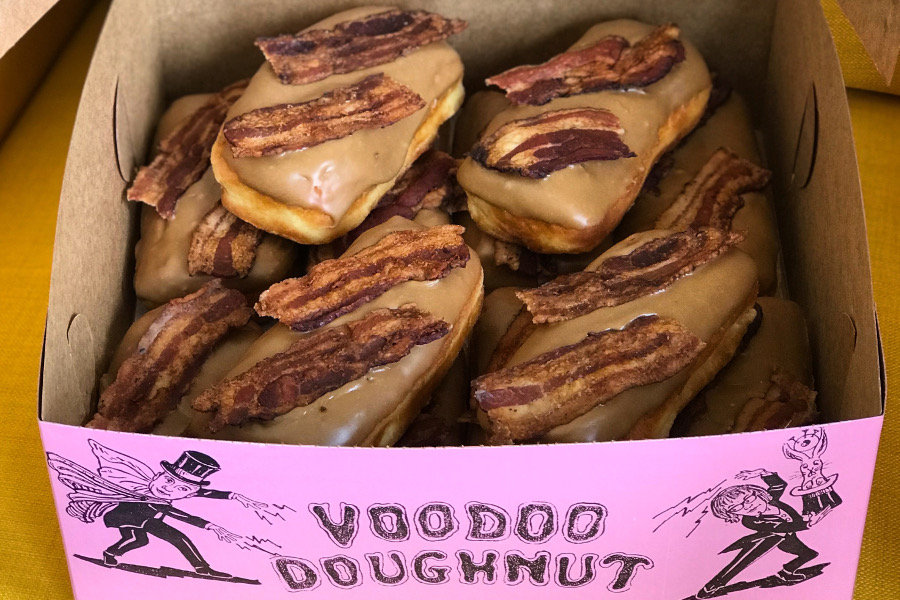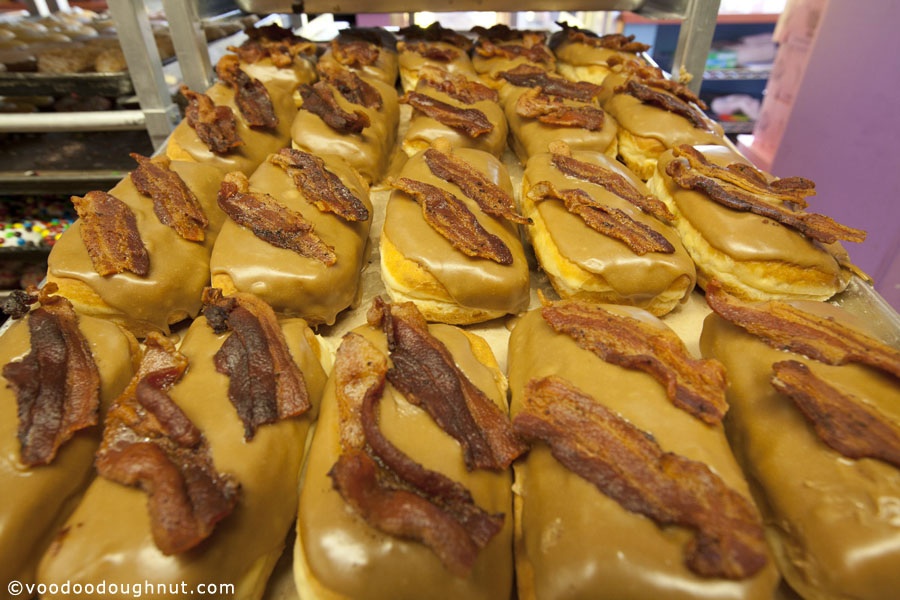 VOODOO DOUGHNUT CELEBRATES 15 YEARS AND THE BIRTH OF THE BACON MAPLE BAR!
AUSTIN, TX (May 30, 2018) – Voodoo Doughnut celebrates its 15 year anniversary and the birth of the original Bacon Maple Bar on May 30th, 2018! The first location opened in downtown Portland, Oregon on May 30th, 2003 at 8pm. What started out as the little-doughnut-shop-that-could is now a cult phenomenon with fans across the globe.
Voodoo Doughnut is the brainchild of old friends and entertainment-minded Portlanders Kenneth "Cat Daddy" Pogson and Tres Shannon. Within a month of opening, Voodoo Doughnut received its first mention in the national press. Cat Daddy and Tres were fast on their way to becoming the new faces of a revitalized, food-obsessed Portland and of a revolutionized doughnut industry.
"We've broken the mold of the traditional doughnut shop, which was sort of our intent. But we didn't realize that it would literally spread throughout the industry. On the first day, we made 12 Bacon Maple Bars. We forced them out the door on customers who confusingly went along with the push from the crazy doughnut guys. We continued at a dozen a day until it just got out of hand. The press showed up, celebrities started showing up. The Bacon Maple Bar had arrived!" Says Voodoo Doughnut co-founder, Kenneth "Cat Daddy" Pogson
Since then, Voodoo has been imitated and admired by doughnut chains across the globe. You can try the imitation but nothing beats the original Bacon Maple Bar, where the meat greets the sweet. Voodoo Doughnut now boasts of seven and a half locations: three and a half in Oregon, one each in Denver, CO, Austin, TX, Universal Studios CityWalk Hollywood, CA & now at Universal Studios Resort in Orlando, FL.
To celebrate, all Voodoo Doughnut locations, with the exception of the Universal stores, will be giving away FREE mini Bacon Maple Bars from 2pm-4pm local time. One per customer, while supplies last.
VOODOO DOUGHNUT is the confectionary iconoclast and foodie-culture provocateur doughnut shop that conjured unforgettable classics like the Bacon Maple Bar, the Memphis Mafia, and the Portland Cream. Founded in 2003 by Cat Daddy & Tres, Voodoo Doughnut is home to an expanding cadre of all-types; weirdos, artists & musicians galore. These doughnuteers are instrumental in carrying out the company's mission: making unforgettable and innovative treats, while creating essential jobs and a fun place to work.
Voodoo Doughnut: www.voodoodoughnut.com
Media contact: sarat3@voodoodoughnut.com
@VoodooDoughnut
###