The Voodoo Doughnut Story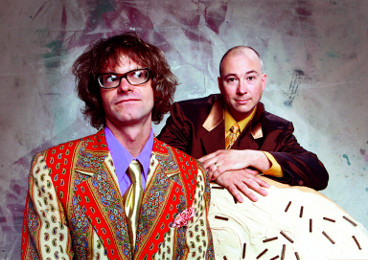 Old friends and entertainment-oriented Portlanders Kenneth "Cat Daddy" Pogson and Tres Shannon collaborated on the creation of Voodoo Doughnut. They shared a desire to fuse exceptional hospitality with their bold, do-it-yourself approach to show business and decided to pursue a joint entrepreneurial venture in 2000.
Upon conducting research, they discovered that downtown Portland lacked a doughnut shop. As a result, they rented a small storefront situated between two nightclubs in Old Town in 2003. They joked about their ambition to achieve "world doughnut domination" with friends and family and opened Voodoo Doughnut. Initially, their pastry offerings were a combination of traditional and unconventional flavors.
The diverse array of sideshow activities included hosting legal weddings, loft concerts above Voodoo's duct tape-adorned bathroom, and weekly Swahili lessons.
Within a month of its inauguration, Voodoo Doughnut garnered its first mention in national media coverage. Since then, Voodoo Doughnut has been featured in a variety of outlets, including The Travel Channel, The Cooking Channel, MTV, Good Morning America, The Today Show, The Tonight Show, Wheel of Fortune, Portlandia, Grimm, Leverage, The Amazing Race, and Access Hollywood. In addition, it has been spotlighted in print publications like People, Playboy, Conde Nast, Spin, GQ, Jane, Maxim, Food & Wine, among others.
Following the opening of its second location in 2008, Voodoo Doughnut now operates 19 locations across seven states as of 2023, with its most recent location in Tempe, AZ. The stores frequently have queues that stretch not only out the door but also around the block.
Voodoo Doughnut's clients and fans attribute the company's success to its development of imaginative and distinctive doughnut flavors and products, and they frequently request that a Voodoo Doughnut store opens in their neighborhood. In response to customer demand, the company aims to expand its product line and geographical footprint by opening new locations throughout the U.S.
In 2017, Voodoo Doughnut welcomed Chris Schultz as the company's CEO. Chris has three decades of experience in the restaurant industry, specializing in operational excellence and store growth. He most recently held the position of Senior Vice President of Operations for MOD Pizza, where he led the company's expansion from a single location to over 350 outlets.
With Chris's strong dedication to employees and customer satisfaction, Voodoo Doughnut is well-prepared to broaden its product line and geographic reach. This will allow the company to introduce its innovative doughnuts, foster an enthusiastic employee culture, and promote community engagement in your neighborhood.